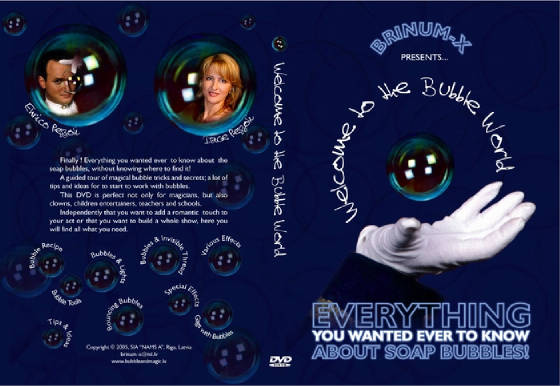 Finally ! Everything you wanted ever to know about the soap bubbles, without knowing where to find it !
A guided tour of magical bubble tricks and secrets; a lot of tips and ideas for starting to work with bubbles.
This DVD is perfect not only for magicians, but also clowns, children entertainers, teachers and schools.
Wathever you want - either - to add a romantic touch to your act or to build a whole show, here you will find all that you need !
MAGIC CLUB SPECIAL : we have ready also a lecture, based on the work of this DVD, but with a lot more of informations. If for your next convention you are searching for something NEW and different, do not hesitate to contact us !
Contents:
-BUBBLE RECIPE
-BUBBLE TOOLS
-BUBBLES & LIGHTS
-BOUNCING BUBBLES
-BUBBLES & INVISIBLE THREAD
-VARIOUS EFFECTS
-GAGS WITH BUBBLES
-TIPS &IDEAS
-SPECIAL EFFECTS
Price: 35 Euro